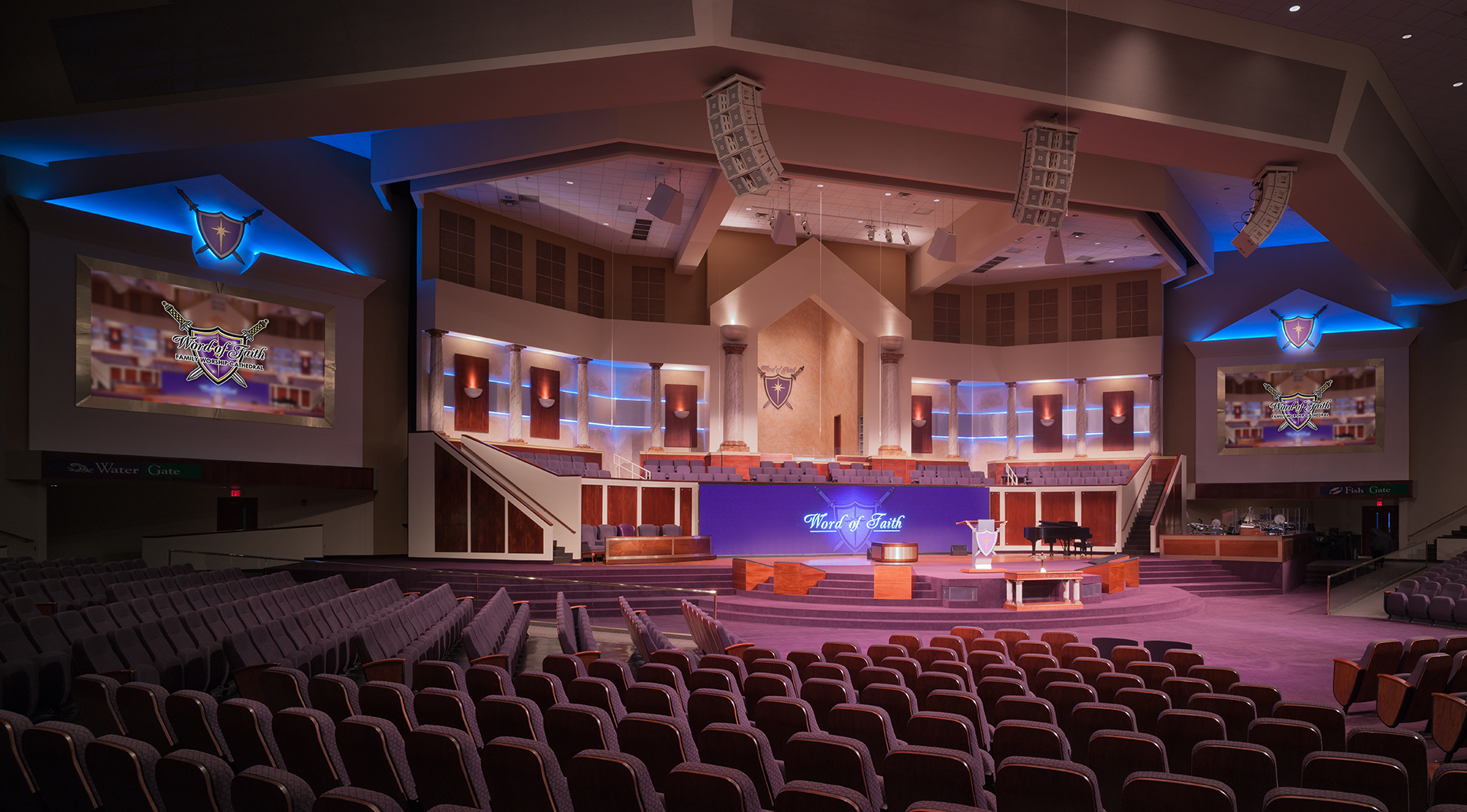 Church Zone has over 25 years of experience designing and building sanctuaries throughout the United States. We convert existing spaces or build out new ones that feel like you, feel fresh, accommodate your needs and are broadcast ready.
We started Church Zone because of a fundamental shift in how congregations experience their church service. Technology drove the real need to capture the entire service for broadcast, in real time, streaming over TV networks and/or the internet. In addition, this broadcast feed is served up on large high definition screens within the sanctuary itself, allowing the congregation to interact with the service in a new and exciting way.
Churches began to embrace a more contemporary service, adding an array of musicians playing in symphony with the choir. Staging needed to change, offering flexibility for different configurations. As the congregation grew, seating expanded to become more reflective of theater seating, rather than the traditional rows of pews associated with a more traditional service.
This new sanctuary is perfectly suited to Church Zone's expertise. Because of the diverse background in building out television studios, staging and theaters, Church Zone understands the complexity in developing a seamless space that allows for day-to-day staging flexibility, empowers technology with lighting, cable, camera, sound design, etc. and accounts for the congregation's experience.
Finally, Church Zone is a responsible, trustworthy partner that puts your success first, building everything around your vision and goals, ensuring your satisfaction. Please reach out to us today for a conversation. We have a history with churches we've helped and will gladly give you access to many satisfied customers you can reach out to.
CHUCK WHITED
OWNER & CREATIVE DIRECTOR, CHURCH ZONE
Chuck Whited, owner and founder of Church Zone, is a true visionary and creative who has flourished in a parallel career as an Art Director, building out broadcast concepts for Atlanta Falcons, BET Network, Discovery Network, ESPN, FOX, Turner Networks and many others. Whited understands what needs to be done to guarantee success at the highest level, under budgets and deadlines, directing large crews, and installing advanced technology.
It was a natural progression for Whited to begin designing and building out Faith Based spaces. As mentioned above, it became important for sanctuaries to be built for broadcast and Whited's experience was perfect to ensure this happened right, every time, without compromise. Hence, Whited started Church Zone, working with colleagues and friends he's depended on for hundreds of successful projects throughout his career.
Whited received his Bachelor of Fine Arts (BFA) from Florida State University and his Master's of Fine Arts (MFA) from the University of Alabama at Birmingham. Whited continues to be involved with Florida State University, serving as an Inaugural Member of FSU College of Fine Arts Advisory Board and a member of the Vires, Artes, Mores Society. This education has continued to be a strong foundation for Whited as he helps to imagine and create new spaces.
An avid bicyclist who races competitively, Chuck enjoys getting out there among the mountains of North Georgia. Not to be restricted to peddling, he also enjoys classic cars, where he can flex his monkey wrench while taking on a restoration. Chuck resides in Atlanta, GA with his wife, Jacqueline, their teenage daughter, and their furry hiking companion, Blue.
JOHN WILLIAMS
DESIGN & PROJECT LEAD, CHURCH ZONE
John Williams holds a B.A. in Architecture from UNC-Charlotte, and a MFA in Industrial Design from Rochester Institute of Technology. As a creative, John has designed many notable international museum experiences, and has worked with world-class international brands such as Mattel, Microsoft, Technicolor and many others. He brings unique experience to global clients, having lived in Germany for several years, he understands how to effectively bridge international cultural gaps while maintaining a tightly integrated brand for global high-tech companies. He has the unique ability to lead project teams from creative development, production design, shop fabrication to on site production.
Williams has worked with Chuck Whited for over 20 years, designing and building award winning projects. As a vital member of Church Zone, look to Williams to bring your concept to life.